Recipe 14 ➺ Mike McEnearney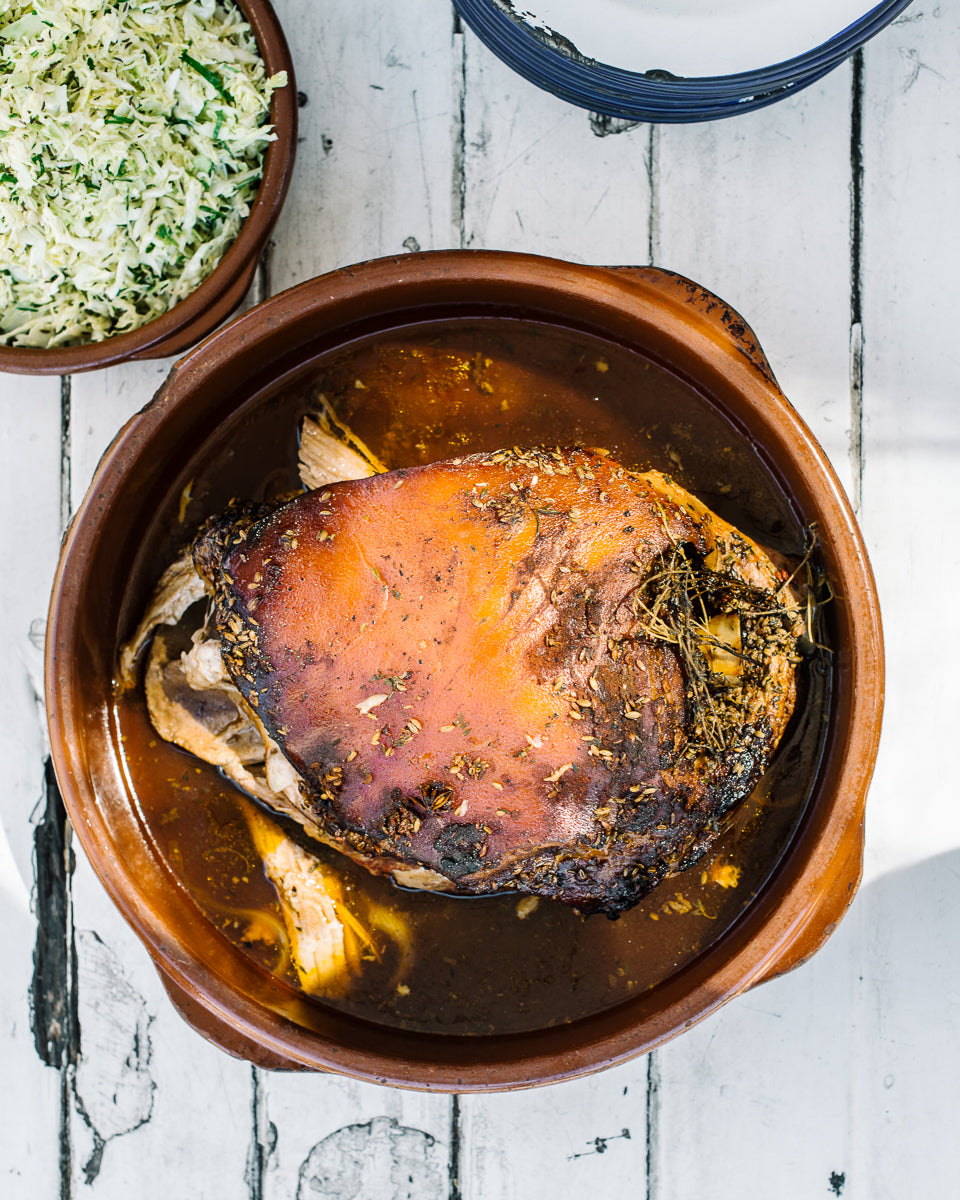 Slow-Cooked Pork Shoulder In Cider
Mike McEnearney is the executive chef and owner of Kitchen by Mike. His energy, skill and inspiration have been cultivated through 30 years of experience in leading some of the world's finest restaurants. Beginning his career at Sydney's acclaimed Chez Oz and Rockpool, Mike later moved to London where he worked at the Michelin-starred Pied a Terre and ran the kitchens of Mezzo, Bluebird, The Pharmacy and Scott's. In 2011, Mike undertook his first personal project, Mike's Table. The acclaimed underground dining experience quickly gained cult status and set the stage for Kitchen by Mike to open. The joy of eating real food, in its purest form, is at the helm of all Mike's endeavours.
Ingredients & Method
TIMING

Start this recipe a day ahead.
8 hours cooking time (approximately).
Serves 10.

INGREDIENTS

Chimichurri
1 bunch flat-leaf parsley, finely chopped
1⁄4 bunch oregano, finely chopped
1⁄4 bunch thyme, finely chopped
1⁄4 bunch sage, finely chopped
1 long red chilli, finely chopped
1 tsp sea salt
Pinch of white pepper
60ml red vinegar
100ml olive oil
75g garlic, finely chopped


Pork Shoulder
7 litres of saltwater brine
1 whole pork shoulder on the bone with skin
1 tablespoon Old Bay spice
1 tablespoon ground coffee
3 fresh bays leaves
5 juniper berries, bruised
5 tablespoons smoked sweet paprika
250ml cider
250ml espresso coffee
1 whole savoy cabbage
200ml whole grain mustard

METHOD

Brine
Make a brine by dissolving the 350g salt in 7 litres of cold water. Place the pork shoulder in a non-reactive container that will hold it snugly and pour over the brine until the pork is covered. Leave to soak overnight in the refrigerator – you may need to weigh down the pork with a plate or similar to keep it submerged.

Pork Shoulder
The next day, preheat the oven to 120°C. Remove the pork from the brine, pat it dry and rub it with the old bay spice and smoked paprika. Place the pork in a deep baking dish or pot with the skin side up. Pour in the cider, espresso coffee and add the wholegrain mustard, bay leaves and bruised juniper berries. Cover the dish well with baking paper, then with tin foil or a lid if you are lucky enough to have one.

Slow cook in the oven for 8 hours until it falls off the bone. At this stage, tip the clear cooking liquid into a saucepan to warm and adjust the seasoning with salt and pepper. Finely shave the cabbage and season with a little salt and pepper.

Chimichurri
Combine the finely chopped parsley, oregano, thyme, sage, chilli, and garlic in a small bowl. Add the olive oil, vinegar, salt, pepper and stir. Let it sit for at least 10 minutes before serving to allow flavours to develop.

Serve
To serve, put some shredded cabbage onto your plate, tear some pork and place it over the top of the cabbage and ladle over some broth to lightly wilt the cabbage. Trick it up with some Chimichurri. Enjoy!